2010 Cult Football XI Selection
The year has come to a close, and as is the fashion we're looking over our favorite stories to compile a starting eleven, Cult Football style. The players on our squad aren't always the most talented, but they tend to bring a joy, or promise, or general absurdity to the game. We hope you've enjoyed the time you've spent with us over the last six months, and here's a wish of good fortune to all in the new year!
Now without further ado, our Cult Football XI selection for 2010.
Strikers
We could fill a whole team with these egomaniacs if we employed the 1-9 formation so popular in the nineteenth century. Instead, we're going with the classic two up top (we haven't quite caught up with the 4-2-3-1 formation that's all the rage nowadays). We passed on a lot of great players for these two: Forlan and Suarez from Uruguay were strong contenders (especially after Suarez bit the neck of a defender), Rooney's troubled genius act nearly earned him a spot, and Tevez is clearly a nut, so that'd be fun. But setting all them and more aside, we've gone with two of our absolute favorites:
Antonio Cassano The once Sampdoria, Roma, Real Madrid and Bari player (where he earned his nickname Il Gioiello di Bari Vecchia) has landed at Milan after a crazy spell at i blucerchiati, where he fought openly with the team's president before being removed from the club entirely. We like him up at the top of our formation where his outrageous talent can be most effective – mooning the opposing fans behind the net.
Asamoah Gyan We've made no secret of our love of this fella, though it's true we didn't know him from a Boateng brother before his showing for Ghana in the World Cup. Yes he's a good player with a bucketful of speed, and he scores some outrageous goals alongside his terrible misses (that World Cup penalty miss stands out, doesn't it?) but what sealed his spot on our squad is his dancing ability. His moves are so infectious even Bolo Zenden was drawn in, though his home country has since issued a stern reprimand plus cease and desist injunction lest the Netherlander set back the course of Dutch dance any further.
Midfielders
Our preference for four in the midfield is further refined with the inclusion of two attacking and two defending midfielders. Yes, our side plays straight up the middle, because everyone knows you only play wingers when you want to give the camera good close-ups. We're no slaves to the broadcasters, so we're packing the center, and to hell with width!
Paulo Henrique Chagas de Lima Ganso: Though he wasn't on the Dunga's World Cup squad this summer, the 21 yr old Brazilian attacking midfielder has caught many the eye of European super clubs for his quality in Santos' midfield. His teammate Neymar drew a lot of attention for his stylish goalscoring abilities, though you can argue that Neymar would never be in position to drive the ball home without the deft passing of his compatriot. He's one for the future of the Seleção, and you can expect him to be in European club ball at the start of the 2011-12 campaign. Also, he shares his name with our favorite Muppet.
Anderson "Hernanes" de Carvalho Andrade Lima: Hernanes only just came into our view with his absolute demolition of the Inter midfield in Lazio's 3-1 victory in Rome. He won the Prêmio Craque do Brasileirão while playing for São Paulo in 2008, and now that he's running the show on his Seria A side comparisons with the long-time injured Kaka have started flowing. At 25 he's not the most youthful specimen, but his composure and delivery remains mature beyond his (European) field experience, and his later-in-life move from his home country may be a sign of changing practices in player development – how often teenage Brazilians head overseas only to be lost in the shuffle, while we only hear of the successes.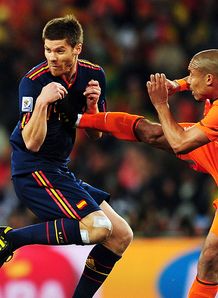 Nigel de Jong: With two unselfish attacking midfielders on our XI, it's time to add some bite, and no one has as much determination to rip off an opponent's leg as does the bald Dutchman. He's broken so many of his opponent's bones that his own national team coach banned him from the squad for rough play on his club team, and who could forget the flying karate kick into the chest of Alonso in the World Cup final? Besides being a tough tackler, the guy can actually play. He brings the ball out of the back (and none of the opposition wants to get too close) and tends to find the right man to start the movement into the attacking third. It would be nice to see him take a hard shot across the face, just to see how he reacts, but for now we expect he'll continue snapping the bones of limp-footed attackers.
Juan Carlos Rojas Romita, as he's called by fans, toiled away in second division Mexican football until he got his big break a couple years back, making it up to Pachuca where he starts in defensive midfield for the current CONCACAF Champions League holders. But it's not for his field play that we've selected him. Instead it's for his ability between the sticks. When Pachuca went down to 10 men in October after deploying all substitutes (their goalie going off for a red card tackle in the box), Rojas threw on the gloves, stepped into the goal, and proceeded to knock away a well-driven spot kick to preserve the side's 1-1 draw. You never know when you'll need a handler to come from an on-field position – it's what you call "thinking ahead".
Defenders
Sturdy rocks in the back center with a sociopath on the right and a young track star on the left, our defensive line is no lot of milquetoasts. We spread the backs wide since we have all that space up the wings (just in case Sky sports threatens to withhold our ad share) but for the most part we just encourage dumping the ball in so we can elbow you in the temple.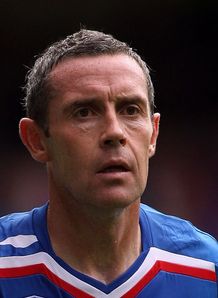 David Weir The Rangers captain caught our eye in his side's Champions League visit to Old Trafford, bringing a steadying, experienced presence to the center of our defense, and as most of the team respect the elderly they do as he says. The man is as old as the hills, and looks it. He spent the first few seasons of his career in Scotland, working his way through Falkrik and Hearts before signing with Everton, where he captained the side under two managers. After 8 1/2 season in the EPL he went back home to Rangers, where just last year he received the Scottish Football Writers' Association Player of the Year Award (this just 3 days before his 40th birthday). He's now taken some part time work in TV advertising, most recently as a Touch of Gray model.
Johan Danon Djourou-Gbadjere We didn't think too highly at first of the Johan Djourou, the Ivorian-born, Swiss defender for the Gunners. We were mostly drawn to his Africaness, as we're always looking to track the origins of immigrants through colonizing powers. We initially criticized his lack of pace and poor positioning, but he's grown on us (and Wegner, apparently, who started him against Chelsea and Man City). He's also never played for Arsenal when they've done anything but win, so he must be doing something right out there. At 23 he's got plenty of good years ahead of him so we're happy to have gotten our hooks in this early.
Jose Pedroso Our right back is another defensive tough man (because di Jong might get caught up the field, and you need another guy who isn't afraid to push the limits back there). The former Rangers player (of Chile's second division) became incensed after referee Marcelo Miranda insisted the opposing team retake a penalty kick four times due to perceived infractions. On the fourth the goal was finally made, setting off Pedroso and earning him a yellow for dissent. That quickly turned into a second yellow for a violent tackle, but instead of leaving the field Pedrosa charged the ref and tried to strangle the life out of him. Quote the player, "I'm not the least bit sorry." Neither are we, Jose. Neither are we.
Patrick van Aanholt Another Dutchman earns a place on our squad, for potential if nothing more. His is a name to remember, as the 20 year old was very impressive in his one run out for Chelsea that we've seen, scoring one against his former loan-side Newcastle and setting up Anelka for another. The young man is fast as lightening, and has a great touch. If Chelsea didn't already have a great left back, we'd be seeing this kid every week. On our squad he gets the start, because we like to encourage young talent, you see.
Goalie
Plenty to choose from, but only one has the combination of youth and sturdy looks we need in front of the photogs net.
Manuel Neuer The German national team's first-choice goalie is also our selection for keeper, not least because of his inclusion as one of the World Cup's Most Valuable Hotties. He was so dreamy that our columnist couldn't even begin to describe his features, leaving her in a catatonic state that was only snapped by 100 ccs of peach schnapps. The guy showed up for the Germans when they needed him most (only getting his chance because choices before him crapped out), and now he's looking to transfer from Schalke to Bayern Munich. Big moves, but could any be bigger than his Cult Football XI selection? Unlikely.