Johan Danon Djourou-Gbadjere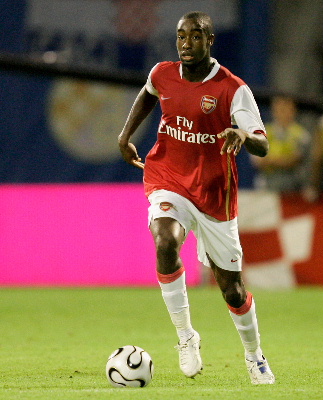 Continuing on this week's theme of all things Arsenal, we take a very quick look at Johan Djourou, Swiss defender for the Gunners. You may ask, "Isn't he a little dark for a Swiss, and that name, it's so African."
Of course he's not Swiss-born. The 23 yr-old was born in the Côte d'Ivoire, then brought by his father's Swiss wife (not his mother) to Geneva before his 2nd birthday. Arsenal held his contract for a number of years, but we're only seeing him now (unless you caught him for one of his very few appearances for the Swiss).
You'd think being a Swiss center back would mean he'd be a great defensive player. But having seen him beaten to too many balls during his time covering for injured starters, that's simply not the case. He's got good foot skills, but is surprisingly slow for a young back on Arsenal, who have some speedy players in the rear. What makes his lack of pace most glaring is his uncomfortable positioning. He's too often caught out and has to track back in a wild dash to try and poke the ball away. Not a good tactic when you're dealing with the olympic sprinters playing up front for opposing sides.
He won't be playing once everyone is healthy, but he does have potential as long as he can get his head around the game.