ARSENAL CLICKS, OR CITY STUMBLES? (Questions from a Gunners fan)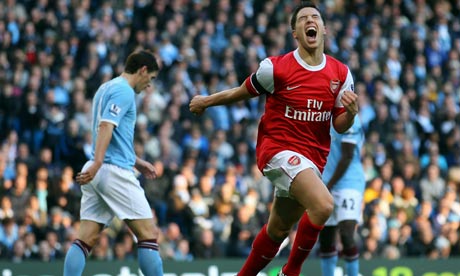 I admit that I was suprised by this game. Surprised by the Arsenal win, by the 0-3 final result, and by City's reaction to the early red card that left them with ten men for 85 minutes.
Everyone at Eastlands will tell you that the result would have been different had Boyata not been ejected. But ejected Boyata was, leaving Roberto Mancini and his millionaires to decide how to fight on. I wonder if they've made their decision yet.
My feeling is that City didn't fold, but they didn't really fight, either. I'm confused as to the strategy for those 85 minutes. We've all seen examples of teams that seem to draw from untapped wells of determination and desperation after losing a player to a red card. But I didn't see City demonstrate that brand of resilience on Sunday.
It's a rare test to play virtually an entire game 10 vs. 11. And City played a Europa League game Thursday, while Arsenal had two days' more rest after their Champions League match. So I understand that the City players were exhausted by the final whistle.
But Mancini has made it clear that he plans to rotate players throughout the season. He had players of skill and experience available on the bench, and City were playing at home for a repeat of last year's explosive fixture.
I have questions.
Why was I skeptical of an Arsenal win?
Arsenal's fitness. Arsene Wenger started Fabregas and Denilson, and he had Walcott and Bendtner on the bench. All four were back for their first EPL game in weeks (or months, in Bendtner's case). They were fresh, but could have lacked match fitness. Also, keeper Fabianski lacks first-team experience, and left- and right- backs Clichy and Sagna, and midfielder Nasri, have each missed games this season due to injury. And then there is the missing link (or perhaps more apt, "the missing"): Arshavin. I have no clue as to which game he will decide to show up for.
The Gunners are often the most predictably unpredictable team in the EPL, equally capable of a 6-0 win at home vs. Blackpool, or a 2-3 loss at home to West Brom. (Praise WBA's quick start, but do you really see them finishing the season in 6th?)
Are they the Arsenal that recently set a record for most goals scored in the first three games of a Champions League tournament, or the Arsenal who enter a match against Chelsea or Man Utd seeming to expect to be knocked around, en route to another "men vs. boys" defeat?
As for the final score, part of my surprise was that I had forgotten that logic has no place in sports. Man City beat a visiting Chelsea, 2-0. Chelsea beat a visiting Arsenal, 2-0. So obviously, Man City was going to beat a visiting Arsenal, 3-1. (It makes sense, do the math!)
But seriously, the Gunners haven't had a clean sheet away from home in an EPL fixture since December. They couldn't possibly shut out City at Eastlands…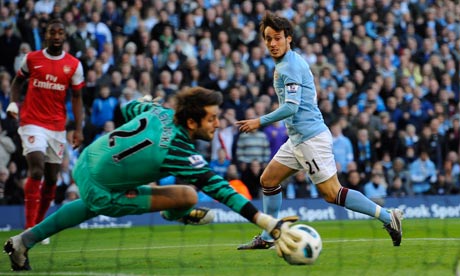 Returning to Man City…
The best strategies for beating Arsenal seem to be: 1. Play rough. 2. Let them pass all day, then counter-attack. 3. Take advantage of the inevitable mental lapse. 4. Have Drogba on your team.
City was employing strategy #1 quite effectively for about 15-20 minutes. Arsenal players began to pull up in anticipation of a hard challenge, and the Gunners themselves starting fouling in what appeared to be obvious frustration and retaliation. But then Nasri scored a beauty of a goal and two things happened at once: City lost faith and Arsenal remembered just how well they can play with confidence.
I have trouble understanding the following:
–City could have made a substitution after the red card. Not necessarily immediately, but eventually, before the first half ended. Toure (Yaya) moved to center back, but he is capable of great offensive play, and the move left a huge hole in the middle for far to long. Should Mancini have made a substitution in the first half?
–Tevez was struggling with a "muscle knock" for the last 15-20 minutes of the 1st half. He wanted to keep on, but it was obvious that he was just going through the motions. Yet he started the 2nd half and was soon brought off. Why?
–I don't see the point of keeping both Barry and De Jong on the field when losing with ten men at home. City needed goals. Why not add Adam Johnson? And why, oh why, throw in Balotelli for his very first EPL appearance in such vital game?
–Why not add Patrick Vieira to the mix? A former Gunner, perhaps the former Gunner, he's still got game.
–Is it just me, or could the departed Craig Bellamy have made an impact as a sub in a game like this?
Individual performances:
Arsenal:
Samir Nasri. The 23 year-old former Marseille phenom has finally adjusted. He's got as many goals in this young season as he had in each of the last two full seasons with Arsenal. He will fill in quite nicely when Cesc leaves for Barca, and he should have taken the penalty that Cesc missed on Sunday.
Lucasz Fabianski. Arsenal's number two goalkeeper was excellent vs. City. Almunia seems like a great guy, but I hope he stays on the bench.
Man City:
David Villa. He has settled in his new home quite quickly. How good is Spain that he can't find a regular starting place!?!
Micah Richards. What a beast. Capable on defence, and he makes fearsome forward runs.
The Wildcard:
Adebayor: What a peach. This guy is so good… at playing in an offside position. And how can a Gunner fan forget the near-riot (mentioned by Suman in his preview article), sparked by Adebayor last year at home vs. Arsenal? He received a suspended three-game suspension for that goal celebration, but he received an actual three-game suspension for this attempted stamp on former teammate Van Persie during the same game.
(Van Persie's initial slide was reckless, but he had the post-game cleat-scrapes on his cheek to show just how dangerous Adebayor's actions could have been.)
What happened to the good ol' days?