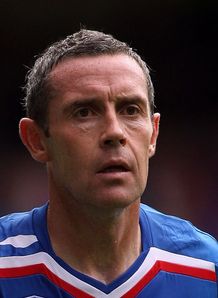 While we flipped through the Champions League games today one man stood out: David Weir. Not for his defensive prowess, nor for any particularly stellar play, but for the fact that, during a close-up of the man yelling at the ref, he looked amazingly old.
The captain of Rangers did indeed anchor an incredibly stubborn defense in a hostile Old Trafford this afternoon, and managed to hold together his troops without himself causing anyone a horrific injury (see further down for some home-shot video of Valencia's season-ending ankle break).
Weir's elderly appearance set us looking for his record. The man is a sturdy 40 years of age, and seems to only be getting more sure with the passing years. He spent the first few seasons of his career in Scotland, working his way through Falkrik and Hearts before signing with Everton, where he captained the side under two managers. After 8 1/2 season in the EPL he went back home and is now with Rangers, where just last year he received the Scottish Football Writers' Association Player of the Year Award (this just 3 days before his 40th birthday).
Footytube has a bit about him after his performance today:
Recently recalled to the Scotland squad, Weir became the oldest player to represent his country when he appeared in their recent Euro 2012 qualifying matches. Last season he was the Scottish Premier League's player of the year and won the equivalent award from the country's football writers. He has the lean outline and undemonstrative air of a man who has survived many harsh campaigns and on last night's display he looks good for another outstanding year in both shades of blue.
And now, as promised, handheld footage of the Valencia injury. They didn't show replays, so you'll have to squint some and catch it on the fly. It's not as horrific as Eduardo's snapped ankle a couple seasons back, but it's clearly a clean double break and a floppy foot flying through the air.