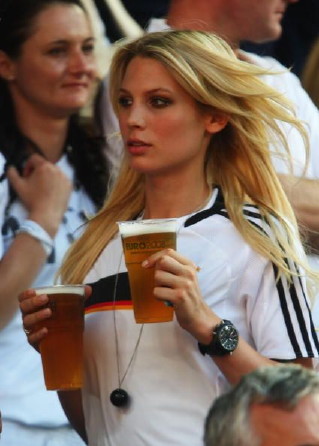 Following on the heels of our look at German midfielder Bastian Schweinsteiger, we present you his "discovered on the street" model girlfriend Sarah Brander.
Schweini has been in excellent form since the 5'10" blond came along (ending his streak of 5 girlfriends in a year and a half), and has actually given her some credit for his current class.
These sorts of things aren't always in our focus, but the sight of her double-fisting at the 2008 Euro was just enough to push the issue to the top. For more up-to-date happenings on Sarah and  Schweini's love, and for general swooning over fit footballers, take a peak at kickette. They are sure to appreciate you stopping by.
And now, without further ado, the Sports Illustrated World Cup body painting swimsuit video staring the long german (after the bump). Be warned, the combination of giggling over the opening bars of Deutschland über alles may draw unwanted attention.