Freddie Adu can go to hell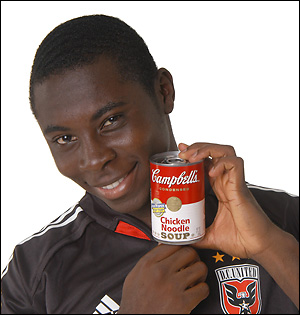 I'm really excited about the EPL starting. I'm out of town, and I won't be able to see any of the games live, but I've set my DVR and I'm sure no one will text or tweet or email about results. When I get back home on Sunday night I'll just sit on my couch and watch kickoff as if it was only just happening at that moment.
And since I don't even want to even think about the EPL I'll turn my brain energy upon the return of Freddie Adu to the United States and MLS. The little Ghanaian is back from a harsh go in Europe. I blame the system.
Here we had a promising young player, who maybe isn't really as young as we say he is (that one's for you, Conspiracy wonks). We send him overseas to be developed. He moves to Benfica during his late teens, a stranger to the culture with his head full of grand ideas bled in from agents and sportswear marketers. His confidence dissolves while he's alone in a foreign land. He struggles and is moved and moved, and so far we haven't seen the player for whom we'd hoped.
It's unlikely he had adequate support when he most needed it, but that's par for the course when bringing in foreign players to a strange system thousands of miles from their homes. Many clubs buy their athletes for big money then drop them into play as if they were a new part, unpacked from the shop. Kids fall through the cracks, unable to keep up with the demands of advanced football while simultaneously finding a home, learning a language, figuring out how to get laid. It's tough out there.
So he's back. Philadelphia, a city whose teams I support to the one—the one being the Union. There was no Union when I lived in the Delaware Valley. In theory, I support the Red Bulls. In theory, because I don't really pay them much mind. But they're my local team, and while I'm happy to see if Feddie can blossom in the city of brotherly love, he can also go to hell.