WC Round of 16: Weekend in Review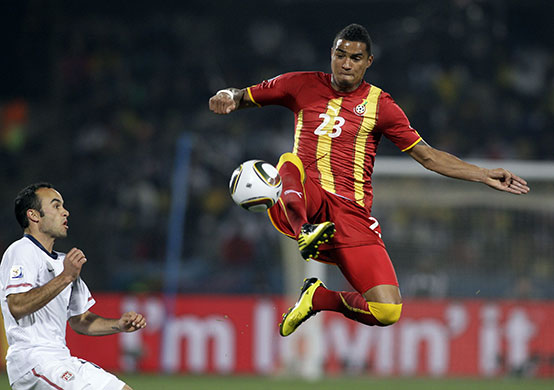 It was a great weekend of WC football, as the Round of 16 got underway with 2 matches on Saturday and 2 matches on Sunday.  We're halfway to the quarterfinals being set, with 2 more matches today.
On Saturday, Uruguay defeated South Korea 2-1 to move into the quarterfinals for the first time since 1970, and the USA crashed out against Ghana in extra time, also by a score of 2-1. The CultFootball team liveblogged both games, here and here.
Sunday offered two highly anticipated matchups.  England and Germany added another memorable installment to their long and heated rivalry, with Germany destroying the English 4-1, in a game that will be remembered for the stunning German counterattack, and for a clear "Wembley goal" for England that the referees completely missed.
In the afternoon game, Argentina pulled away from Mexico 3-1, although this game too was marred by an officiating error, with goalscorer Carlos Tevez clearly offside on Argentina's first goal.   The extended CultFootball team commented extensively on both games in entertaining open threads here and here.
That sets up a huge quarterfinal matchup between Argentina and Germany, to be played Saturday (10am ET).  The other quarterfinal matchup that's set is Uruguay vs. Ghana, Friday 2:30pm ET.
We've got two more Round of 16 games today: the Netherlands kickoff against Slovakia in just over 30 minutes, followed by Brazil against Chile later in the day (potentially setting up yet another tremendous quarterfinal match!).
We'll cover both of today's games via liveblogs/open threads..join us for the action!