Liveblog (or open thread?): Uruguay (#uru) v South Korea (#kor)!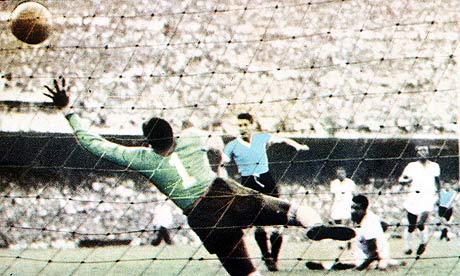 And here we go..doesn't it feel like a whole new tournament is starting today? The past 2 weeks were prologue; the most important time in history is now, the present(*).
All eyes here in the US are looking forward to the 2nd match of the day, USA v Ghana (kickoff 2:30pm ET). But we here at CultFootball HQ are nearly as excited about Uruguay v South Korea. Why? Well, the Korean branch of the CultFootball fam is both numerous and uncompromising in its support of the Reds. And on the other hand, this CultFootballer is, among all the South American teams, partial to Uruguay, for reasons both personal and historical.
We are about 15minutes from kickoff.  Some intro material lifted from the Guardian's liveblog and then our live entries after the jump!
Uruguay: 1-Fernando Muslera; 2-Diego Lugano, 3-Diego Godin, 4-Jorge Fucile, 16-Maximiliano Pereira, 15-Diego Perez, 17-Egidio Arevalo, 7-Edinson Cavani, 11-Alvaro Pereira, 9-Luis Suarez, 10-Diego Forlan.
South Korea: 18-Jung Sung-ryong; 22-Cha Du-ri, 12-Lee Young-pyo, 4-Cho Yong-hyung, 14-Lee Jung-soo, 8-Kim Jung-woo, 16-Ki Sung-yong, 13-Kim Jae-sung, 7-Park Ji-sung, 17-Lee Chung-yong, 10-Park Chu-young.
Referee Wolfgang Stark (Germany)
Correction! Final score was of course Uruguay 2 – South Korea 1. No disrespect to the Reds was intended–thanks for pointing out the mistake June!  Keep being the Reds–they played well yesterday and showed that they belong among the top 16 teams in the world.
[liveblog]18[/liveblog]
Here is some intro material lifted verbatim from World Cup 2010: Uruguay v South Korea – live | Scott Murray | Football | guardian.co.uk:
Incontestable Football Statements (No1 in a series of 1): Uruguay is, pound for pound, the greatest nation in football history. Two World Cups, two Olympic titles, 14 Copa Americas, three and a half million people.

Three and a half million, though. That's two Northern Irelands, a Wales, or 75% of Scotland.

Also to be taken into consideration: The most dramatic goal in the history of All Football; Obdulio Varela; their 1954 side; Enzo Francescoli.

In conclusion: Brazil ma hole. They even needed a Uruguay fan to design their kit.

South Korea, meanwhile. This is their seventh finals in a row. They made the second round for the first time in 2002, whereupon a combined South Korea & Matchday Officials outfit breezed past Italy and Spain to make the semis. This is their second foray into the knockout stages, their first away from home.

Today's game: Up for grabs. Uruguay are favourites, solid and steady, with Diego Forlan in top form up front. South Korea have been a bit all over the show: mighty impressive against Greece, poor against Argentina, up and down against Nigeria. I'm saying we're due a classic; this may as well be it.

What both teams will need to have: The battle fever on.