Stuart Holden Shines in Bolton Win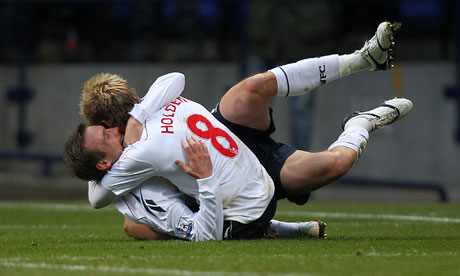 US national team midfielder Stuart Holden (who currently holds first position for tackles won in the EPL) scored a dramatic late winner for Bolton Wanderers on Sunday upon his return from a thigh injury. The prolific twitterer (@stuholden) has become a fixture in Owen Coyle's side, and though Bolton had gone down to ten men Holden continued to attack, turning a chested trap into a powerful one-time volley that slid in at the near post.
Fat Sam, having seen his team level with two minutes left and up a man, was more than displeased after the match, calling his squad a bunch of old women. Asked if he was sick from the result, he responded:
"Sick is an understatement. We defended like a bunch of old women. I'm sick they went down to 10 men, because, with 11, I thought we were going to go on and win it."
Bolton have surpassed all expectations this season both in style and points earned. They've played a pleasing brand of football, and now sit six in the table with a +6 goal difference.