Tottenham v Man City Starting Lineups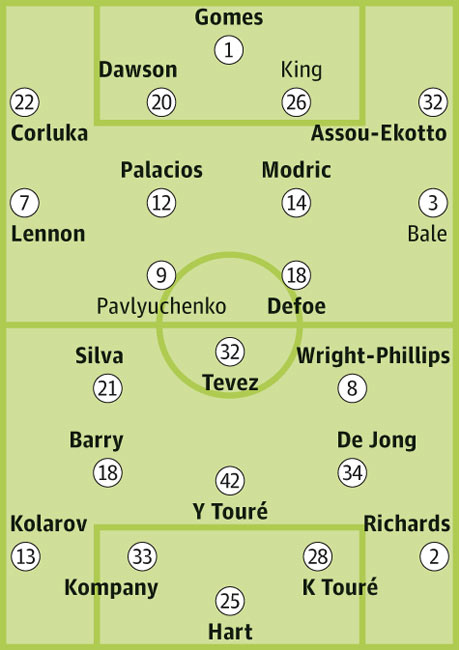 If you're not up early (kickoff was at 7:45am ET) watching this opening game of the 2010-11 English Premier League, you're missing a doozy.  As the inimitable Guardian liveblog put it, "a cracking start, real 200mph This Is What The Premier League Is All About™ stuff."
We have a Spurs season preview from cradle-to-grave Tottenhamite John Lally up here, and we expect he'll also post a match recap later today or tomorrow.  At some point we'll also have to comment on Man City's chances, as they've been more active in the transfer market than any other EPL side (having spent an astounding ~$156 million to bring in international stars David Silva (Spain), Yaya Toure (Ivory Coast), Aleksandar Kolarov (Serbia), Jerome Boateng (Germany), and just in the last 24 hours, Mario Balotelli (Italy).
That list points out the internationalization of the Premier League.  Here's a run through the starting lineups in this morning's match, along with the national side of each player:
Tottenham: Gomes (Brazil); Corluka (Croatia), Dawson (England), King (England), Assou-Ekotto (Cameroon); Lennon (England), Modric (Croatia), Huddlestone (England), Bale (Wales); Crouch (England), Defoe (England).
Man City: Hart (England); Richards (England), Kolo Toure (Ivory Coast), Kompany (Belgium), Kolarov (Serbia); Yaya Toure (Ivory Coast), De Jong (Netherlands), Barry (England): Wright-Phillips (England), Tevez (Argentina), Silva (Spain).