RedBulls v Fire: A Few Thoughts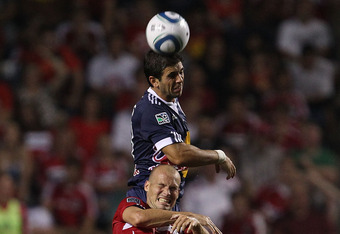 Having watched a good portion of last night's Designated Player matchup I am again reminded that while individuals can make an impact in moments, it's the whole team that wins or loses a game. Obvious stuff, but easy to forget when the hype swirl around Henry, Marquez, Angel, Ljungberg and Castillo would have you think we were about to see these 5 guys play between themselves in some sort of Yuen Woo-ping gravity defying super-powered action.
Henry left early with a groin strain, not good but probably just being cautious. But he hadn't done a ton before that anyway, though it's not entirely his fault. He had poor service, and Marquez, for as calm as he was interrupting play and delivering the ball to the wings, couldn't quite deliver a 50 yard pass to his striker's foot. There looked to be loads of open space in the middle of the red bulls attack with no one willing to manage the area, while the Fire came forward well with their latest DP, Freddie Ljungberg.
There were a few problems with the Red Bulls attack, though the most obvious were their lack of pace and some poor passing. They tended to hold the ball up on the wings, preferring to cut the ball back and let the teams set up instead of continuing a possible counter attack, and when they tried to move forward at pace they often passed the ball behind the targeted player, making him hold up his run and check back to the ball. The Fire looked more positive moving forward, though the Red Bulls defense was quite solid, very encouraging considering it wasn't Marquez sitting in the centerback slot.
Overall a game that creaked along, with both teams committed to playing firm defense, but letting their opposing teams' attack get in the way of itself. Let's hope for better play when the Red Bulls take on Toronto this Weds, and the Galaxy this weekend.