Newcastle Impose Their Will on Arsenal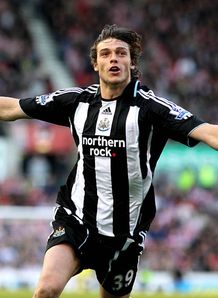 Newcastle came into their game at the Emirates significant underdogs, though in good spirits coming off a strong win last weekend against aggressive long-time rivals Sunderland. The first half was one of frustration for Arsenal, with Fabregas' strike against the crossbar the only time the 22 year old Dutch goalkeeper Krul let a ball past (a triumphant return against the team who put 4 past him in recent Carling Cup play). Walcott was unlucky against the woodwork in the second half, but overall Krul made some top-notch saves to kept Newcastle in the lead.
Arsenal tried and tried, but couldn't penetrate a compact and organized Newcastle defense. The team in black and white collapsed around the Arsenal playmakers as they crossed midfield, cutting off distribution through the center. They also did well to quickly pressure the Gunner's wingers when they had possession, isolating them and forcing turnovers.
Of particular note was Andy Carroll. The big leaping forward who scored the winning goal for the Magpies was all over the filed, winning balls in defense and forcing the issue in attack.
For this week's chalkboard project, let's take a look at the first 17 minutes of the second half. A crucial period for Arsenal (for any team really, ahead or behind), if they'd come out a changed, charged team they might have turned the game then and there and gone on to win. Pity to the home fans, their team were worse after the break. This little slice of the game is a fine example of how most of the match played out–in Newcastle's favor.
As Newcastle plugged up the middle, then the wings, then the middle, and so on, Arsenal were forced to pass the ball laterally, with very few forays into more dangerous areas. They did try (132 total passes attempted) but Newcastle upset them enough to force 26 turnovers, concentrated dead in the center of the pitch where Fabregas' magic would have otherwise been crafted.
On the chalkboards, Arsenal is moving left to right, and Newcastle right to left.