The US Women can win through Rampone and Cheney
Sunday's final vs Japan is going to be verrrryyyy interesting!! 2 completely different teams but with the same die hard attitude! I'm torn over who I want to win, because I'm not totally sold on the US team yet. Their style is…not so attractive, but their chemistry and attitude is immense.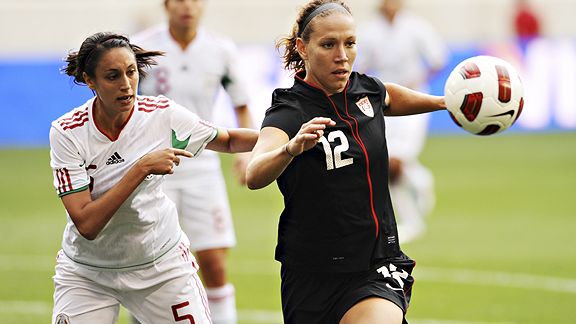 Watching that US semifinal,  it was France who were so much better on the ball, possessing beautifully! They created so many opportunities while the US had trouble possessing in their midfield as well as penetrating France's D, but low n behold the US's unshakable belief in themselves plus deep mental, emotional, and physical conditioning propels them through at the end.
Japan are much like france, only faster and more precise, PLUS they have a winning attitude to rival the US team's. It will be interesting to see how the US adjusts that flat back 4 to japan's strikers as well as midfield who move so well as a unit and you never know who will pop up and through.
The US has 2 hands-down all-around players. The others just have specific attributes and that's it (in my opinion of course!) They are Rampone in the back and cheney at midfield. Rampone is not only a great defender, but tough as hell with a patient vision, and great leadership skills. Cheney is the only TRUE, as well as versatile, midfielder the US have. She has REAL ball skill, speed, vision, accuracy, and tenacity on every play. She's a box to box midfielder who gets up in attack and then tracks back to mark deep in her own territory on every play. Llyod cannot hold the ball and neither can Boxx, but Boxx is good and breaking up the attack, and Llyod can link a pass from back to front, just don't ask her to win a foot race up the line all day. Luckily Cheney is ALWAYS on the ball with great touch and will take the ball wherever it needs to go.
Japan's danger players are Aya Miyama and Homare Sawa in midfield, and Kozue Ando up top (she's normally a midfielder too, but Japan has her at the point). They have a whole slew of strikers and midfielders that can penetrate at any time! And their D is SOLID. If rampone can't get her flat back 4 to adjust to japan's speed, smarts(creativity), and tenacity, they will have a problem. I think if the US  keeps Cheney in the middle that will really help! We'll see….
In some ways, the US team reminds me of the old German (men's) teams of the past. Fit, tough, play the system without flash and get the job DONE. But with the precise play of the Japenese women, can that momentum and attitude of the US carry them all the way through?
Gonna be one hell of a game!